RK FlatRoofing Inc. is a family owned company.  We are dedicated to providing high-quality workmanship with over 20 years experience behind us using TPO (Thermoplastic polyolefin). TPO is a UV/ heat reflective,  an energy efficient and ecofriendly synthetic rubber compound. Don't tear off your existing roof; TPO can be retrofit saving you money and time and has greater puncture and tear resistance. We also offer full rips which includes; removing the old roofing material and insulation. Starting fresh with new ISO insulation, and installing 60 mil TPO.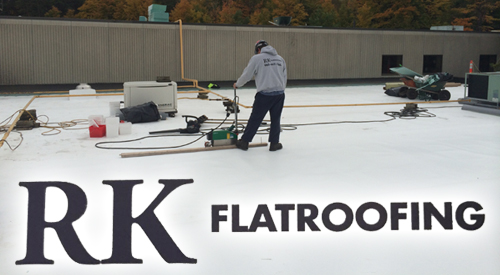 RK FlatRoofing Inc. is fully Insured and "working at heights" certified. Specializing in industrial and commercial buildings, we work with many property owners and Property Management companies throughout Southern Ontario. Previous work carried out by our company can be viewed upon request.
Our customers have chosen TPO over any other roofing system and have been 100 % satisfied with the results and our quality workmanship.